Since opening the doors for business in Snellville Georgia, our craftsmanship in the work we deliver and the materials utilized have been of the highest quality. It has passed the rigors of being juried by peers and professionals in the glass world.

You may be assured that every item admired and purchased will be constructed to the same standards of excellence. Each piece is hand crafted so there may be minor material variations that we cannot control. This in no way detracts from the beauty or quality, but assures uniqueness and originality.
Presently our work can be found in several local Galleries and Gift Shops. The Historic Stone Mountain Park has been one of our favorite customers, since 2004. There you might find 3-D birds, butterflies and treasure boxes, along with a wide assortment of glass bugs.
Maury's Stained Glass remains members in good standing with the Local Glass Art Guild.
You are invited to take your time and admire each accent for heart & home, bring us your dreams and we will strive to create them for you. The Order Form information can be be returned via email or the postal service. Upon receipt we will send a written quote for each item, a date for shipping and payment methods accepted.
Armstrong Glass is a favorite link of ours. There you will find beautiful glass, supplies and many helpful tips. Join the forum also!
We are happy to announce that the Teaching Department still conducts a large schedule of Classes and Workshops..

If you are interested in purchasing any of MaryLee's creations Contact us via e-mail or call 770-789-5724

When you visit the section for Fiber Crafts you can discover how you may also get involved with charities that receive donations of knit, crochet, and sewn items.

My Paper Folding section will acquaint you with some basics of Origami, Tea Bag Folding and Iris Folding. You can learn to amaze your friends with just a few of my favorites. And IF folding is not your 'cup of tea', I will gladly do it for you and you can choose the colors.

Now let's get Wired and add some bling with Beads & Charms. Wire is not just for construction work, it can embellish any item you can find. Here I'll show you how simple objects like marbles can be caged with decorative colored wire. Glass beads and pewter charms always adorn my stained glass treasure boxes and can turn up in unexpected places on other works as well.
Last but never least – Please visit the Lifestyle section for some priceless information.
We trust that you will enjoy your time on this web site! Please share it with your friends and stop back later for updates. You are always invited to Contact me with sincere questions and inquiries.
Please note that all of the items pictured on this site are handmade by myself. This includes the Stained Glass, Knitting, Crocheting and the Bead & Jewelry items. These pictures can be seen on other sites with the items for sale. The GeorgiaCrafter is the source for the original items and are of the highest quality.
Often Imitated but Never Duplicated.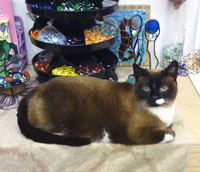 Introducing our new studio mascot,
Ms. Bella Blue Eyes, Feb. 21, 2010
CopyRight©2006-
All Rights Reserved
Web Site Designed & Maintained
by Richard Maury