Wire & Beads
For More Wire & Beads, Click HERE
For Ear Rings, Click HERE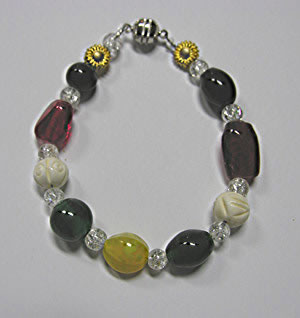 This spiritual bracelet tells a story in color.
Each bead has a meaning that is easily remembered.
The clasp is magnetic because the love of our savior draws us to Himself.
One golden circle represents our birth & rebirth, separated by the smallercrystals to remind us of the promises Jesus has given us.
The black bead reminds us of our sins.
The red bead symbolizes the shed blood of JESUS.
White is for the righteous washed clean condition we have after accepting JESUS sacrifice and love for us.
Green reminds me to grow in Bible study and prayer.
The yellow bead is a symbol of the eternal light of heaven, all aglow with JESUS presence.
And finally we have the second golden circle to show the continuation of love, life and happiness with JESUS.
Easy to remember, fun to wear and very affordable. Each bracelet is slightly different and unique, the theme is always the same. $7.50 plus S&H of $3.00
To order, click HERE