A passion is born. It was early in the 1980's and I had always dreamed of being able to knit. Books and magazine pictures called out to me every time I would see anything pertaining to the craft of knitting. So off to the local Phildar Yarn Shop in Decatur, GA I went in search of a teacher. Upon entering the shop one could instantly become intoxicated with color and texture. The shop manager was eager to sign me up for the next class, sell me a pattern and some yarn and the 'mighty straight needles', they seemed 2 yards long! Waiting 2 weeks for the class to start was almost unbearable, excitement mounted daily, I arrived early. There were 6 of us, eager as baby birds awaiting a meal. However, "momma bird' was a bit of a disappointment to us all. Turns out she was a 'weaver' by profession and it was obvious that knitting was just a job to her.
We labored through the classes, one by one they passed. I tried to do the assigned home work, I even stayed up all that first night. My enthusiasm was enough to keep those long needles waving in the breeze. My husband Richard quickly discovered he needed to sit apart from me now, getting stuck in the ribs as I knit and purled was no fun for him.
Rescued from the brink of despair! No one had a finished project when class concluded. The 'momma bird' bade us a fond farewell and off she flew. However, the shop manager had compassion on us and offered a reduced fee to take the class again, this time with a real teacher, from California even.
Her name is Ms Maggie Righetti and she is so in love with yarn, knitting, and teaching that we all were instantly taken to a new world where fingers dance, circular needles fly, and hearts soar! She instructed us to forget anything we had learned previously, and to open our minds to the style of Continental knitting that she was so good at. I admit, it was a new experience and it did take a while to master, especially the purl stitch. Maggie is the best when it comes to educating eager minds (and hands). She had me stand behind her chair and watch her knit until I could do the same moves she had done. Next came the purl stitch, we kept with the system until it clicked and I too could knit and purl almost effortlessly.
To say that a friendship was born would not do credit to the bond that was formed during that second Beginners Class in that now extinct yarn shop in Decatur. Maggie was to author three books for St. Martin's Press and several booklets for Plaid Enterprises,Inc. during my time in her world. First came Knitting In Plain English 1986, a must have for every knitter. Many have commented that 'it seems like she is here with us as we read her books, learn, and enjoy the experience. And so it does, every time I open the pages for renewed advise from my mentor.
1988 brought forth Crocheting In Plain English from her humble word processor. Imagine the honor of being ask to not only proof the patterns for the manuscript, but to actually crochet all of the samples to be photographed! Then - pass the smelling salts, she ask me to wear one of her sweaters and pose for a photo (that's me on page 222).
The third in her trilogy arrived in 1990, appropriately named, Sweater Design In Plain English. My part was small for this book because she kept me busy knitting and posing for some of the Plaid booklets that she was authoring. Ever eager to get the news out that everyone can become successful with yarn, hooks and needles; she must have worked at least two word processors into the floor; and sadly enough her self also. Retirement from knitting followed and then one fateful Georgia day her sons from the west coast won their plea and she moved back to California. Now we can only 'reach out and touch' each other by telephone and mail. I trust she will remain well and happy for many more years, and that we can one day knit the clouds and flowers of Heaven in the most striking colors and textures imaginable.
And so it goes as she says, "That is what this (book) is about: carrying on a fine tradition of creativity; keeping alive and well the spirit of experimentation; understanding the basics and building upon them"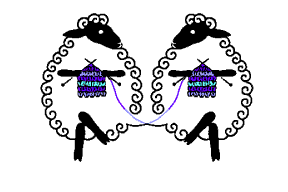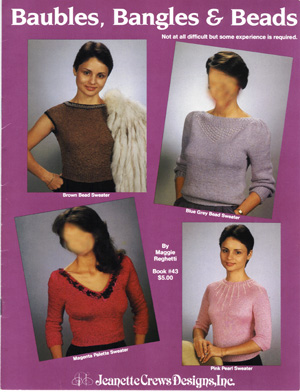 Threads of Love This project is for making caps and booties for premature babies in NICU units of local hospitals.
Knitting For A Better World This is more of a listing of many different charties that need knitted goods.
The Ships Project This project is for making caps and slippers for the men and women of the armed services stationed overseas.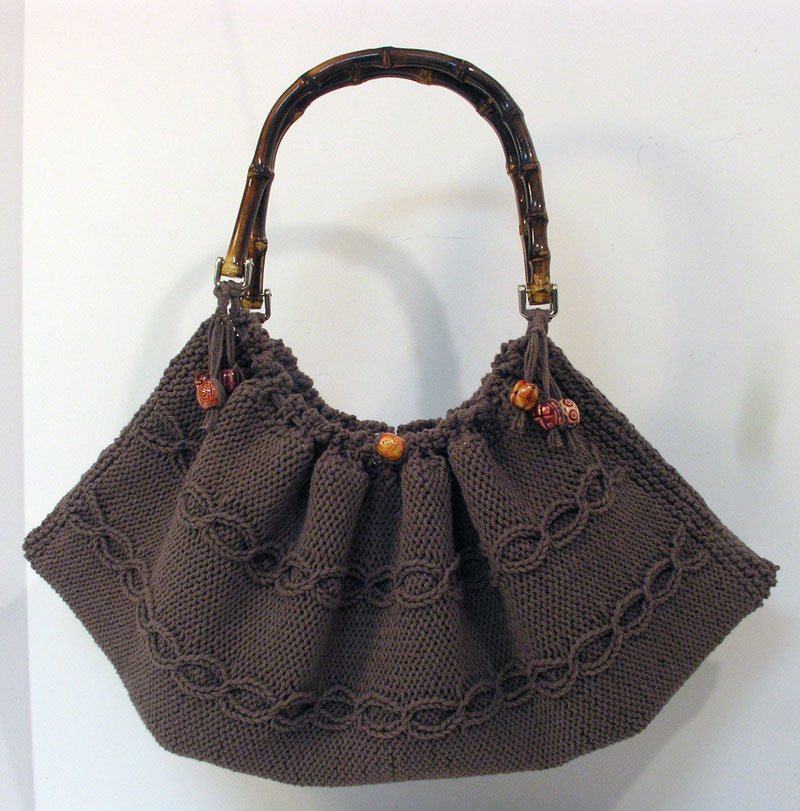 The above is one of the latest projects. It is lined and makes a unique handbag.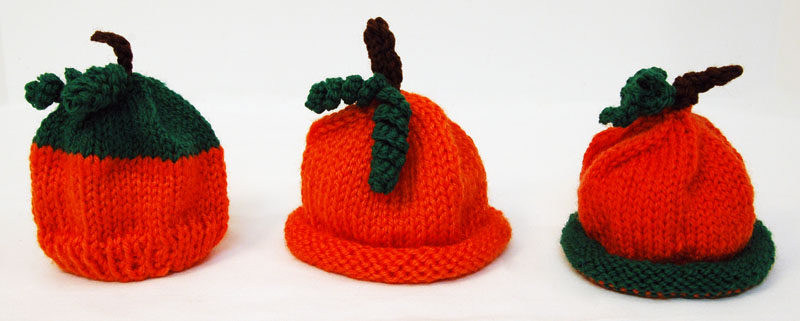 These hats were knitted for the Preemie Project. Click HERE for more information.
Here is another new Knitted bag made from fabric strips.