BACK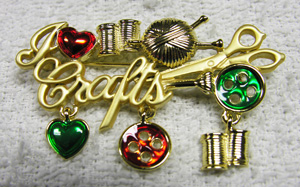 Artist Bio
MaryLee (Crider) Maury resides in the shadow of Stone Mountain in Gwinnett County. A love for unique hand made creations began at an early age for me. Many of my talents were inherited. Memories involve making special cards and gifts from simple items a young girl might find in a sewing cabinet, and being taught to embroidery at about age 5. Many family members were talented with yarns and threads to crochet and their baskets always captured my imagination. It was only natural that a love of soft colorful yarns be realized.
Desiring to take up knitting as well led me to meet Ms Maggie Righetti in 1981. When Ms Righetti authored several craft books she ask for my assistance. You may read more about this in the section Fiber Crafts/Knitting. Husband, Dick, has been the recipient of many cozy, warm and colorful hand knit sweaters and pairs of socks.
As a volunteer crafter for the "Threads of Love" organization many caps, booties, and blankets have been crocheted and knit for premature babies in Neonatal Intensive Care Units of local hospitals.
As of 2006 sewing talents are being used for the "Bags and Quilts of Love Project." I welcome other seamstress to join in and experience to joy of helping children that are removed from their homes by the county officials. You may Contact me for more information.
The Folk Art movement drew us in and I added acrylic painting to my "treasure chest" of talents. Once again Dick stepped in and became the carpenter of hundreds of original designs that our cottage industry produced. Our hand mades from the heart were exhibited and sold in countless Arts and Crafts Shows for many years.
Just a few years ago I began an adventure with color and texture after an introduction to the medium of stained glass. I have explored the avenues of fusing and slumping as well as copper foil and lead work. It wasn't't long before I developed a passion for dimensional glass objects, despite the beauty of a window or panel something was amiss until I hit upon soldering pieces together in such a way as to give my work 'a more life like quality'. To my great delight, others have found joy in seeing and owning these creations as well.
Since then, I have been employed in two Glass Studios and for the year 2007, I had the privilege of teaching over 45 students and introducing them to my interests and passion. This experience also allowed me to acquire many new skills and afforded the opportunity to hone existing skills. The future now looks bright for discovery and productivity in my own company, called appropriately 'Maury's Stained Glass,' located in Snellville, GA.
It is my sincere wish that all would search out and find each of their God given talents, develop them, and be blessed.